Incredible Small Barndominium Plans
Our Barndominium Small Floor Plans are the perfect blueprint for building a simple and affordable barndominium. Whether you're looking for a compact barndo with a workshop, a house with a tiny footprint, or a simple space with an open floor plan, we have the perfect barn home plans to fit your needs.
We design our small floor plans to be affordable to build. With a focus on efficient use of space, our small barndominiums offer clever layouts that maximize functionality and provide ample storage options.
Our plans are designed to be built with steel and metal roofs, ensuring durability and longevity for your barndominium. Our small barndominium kits and prefab options simplify the building process, making it easier for you to bring your vision to life in less time.
Featuring attractive features like lofts, garages, porches, and decks, our small barndominium plans offer something for everyone.
Start your journey towards your dream small barndominium home today!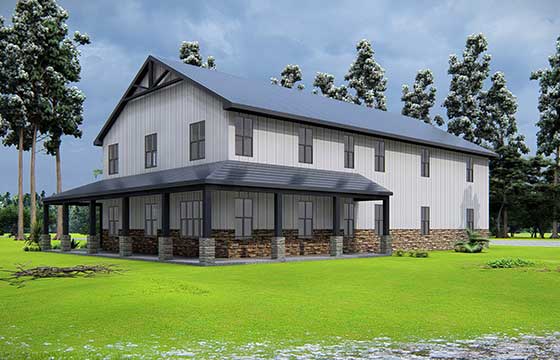 The Best Barndominium Floor Plans for Sale on The Web
Buy your floor plans from a company that has experience manufacturing steel buildings and erecting barndominiums. We only sell floor plans that we would build, and all of our plans are available as steel building kits.