Texas Barndominium Plans & Builder Kits
Barndominium Floor Plans & Kits Inspired By The Great State of Texas. You can build these floor plans anywhere in the USA. We have four more home plans coming for this barndo category, including IKE, the Austin, The Sam Houston, and The Earhart. These Texas
Plans and Kits are sold separately. You can buy the plans without the kits. All plans can be modified to allow for wood construction.
Bardnominium Kits typically ship 4-6 weeks from the day they are ordered. Plans email the same day.
Experience the essence of the Lone Star state with our collection of barndominium floor plans. These meticulously designed and thoughtfully crafted home designs are inspired by the rich heritage and architectural elements found throughout Texas. Our goal is to provide affordable housing with a range of square footage options without compromising on quality or style.
These innovative and versatile home designs are inspired by the rich heritage and architectural elements found throughout Texas. Embodying the spirit of the Great State, our floor plans capture the essence of Texas living, whether you pick one-story or two-story barndominium plans.
Texas Barndominiums Home Plans Inspired by Independence
Each design in our collection pays homage to Texas's iconic Lone Star symbol, representing pride, independence, and resilience. The Lone Star Inspired Barndo Plans offer a perfect blend of rustic charm and modern comfort, bringing the authentic Texas style to your doorstep, no matter where you choose to build.
With barndominium plans options for garages, shops, and lofts, our floor plans offer something for everyone.
Drawing inspiration from the vibrant cities of Texas, our floor plans showcase the dynamic energy of Austin, the capital city known for its music scene and vibrant culture. The Austin design features open spaces, ample natural light, and seamless integration of indoor and outdoor living areas.
For those seeking a touch of Southern elegance and grandeur, the William B. Travis design offers a spacious layout focusing on luxurious amenities and a seamless flow between entertainment spaces.
If you're looking for a Texas barndominiums home design that celebrates pioneering spirit and adventure, the Ike plan pays tribute to the renowned World War II general and Texas native. This design combines functional living spaces with a nod to historical significance, creating a unique and captivating barn home.
Last but not least, the Earhart house floor plans design captures the spirit of exploration and trailblazing, just like the legendary aviator Amelia Earhart. This plan features innovative design elements and a harmonious blend of modern aesthetics with a touch of vintage charm.
Whether you're in Houston, Dallas, San Antonio, or any other corner of the USA, our Texas barndominium floor plans offer the opportunity to create your dream home inspired by the Great State of Texas. Embrace the Texas spirit and embark on a journey of architectural excellence and timeless appeal with our Lone Star Inspired barndominium plans.
The construction process can be made simple if you purchase the home as a barndo kit. Each plan here can be made into a steel kit and shipped to your property. We can also introduce you to contractors & barndominium builders to help with the building process.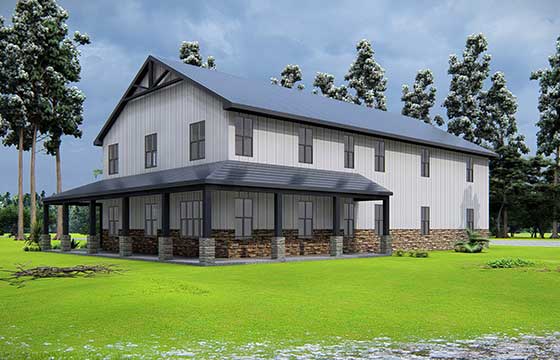 The Best Barndominium Floor Plans for Sale on The Web
Buy your floor plans from a company that has experience manufacturing steel buildings and erecting barndominiums. We only sell floor plans that we would build, and all of our plans are available as steel building kits.